Centennial, Colorado
A collaborative partnership, working together to provide efficient and innovative services to the community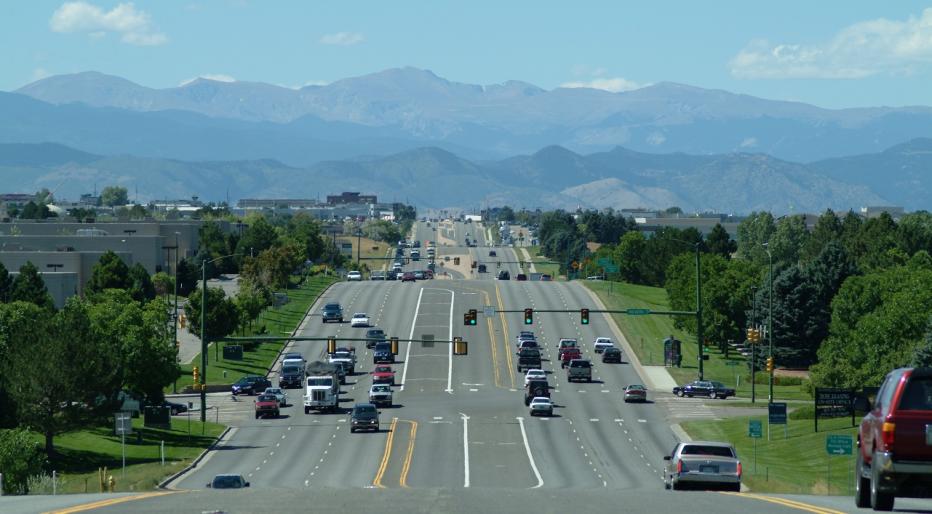 Since its incorporation in 2001, the City of Centennial, Colorado, has grown to become Colorado's 10th most-populous city with more than 105,000 residents and is widely recognized as one of the best places to live and work in America. But Centennial's noteworthy accomplishments wouldn't have been possible without innovative approaches and purposeful investment in the community by the City.
The City outsourced key activities where possible, seeking innovative partnerships to benefit businesses, the community and the environment. In 2008, the City entered into a public-private partnership with Jacobs to achieve a high-performing Public Works Department, responsible for day-to-day operations and the management of capital projects. Working as an extension of the City, Jacobs provides the necessary fulltime, onsite staff to deliver the large range of services including fleet maintenance, facilities management, park maintenance, traffic engineering, traffic management, snow removal, street rehabilitation, code compliance, management of field service contractors, staffing of the 24/7 Citizen Response Center and capital program management. The program scope has evolved over the years to adapt to the City's ever-changing needs.
At the time, the partnership model was unique for a city of 100,000 residents, but now serves as a model for successful public-private partnerships across the United States. Together we have worked to make Centennial a model for what can be done when a City and the private sector collaborate. The partnership has received numerous industry awards for excellence in public works, quality and overall project delivery. In 2016, the Centennial Public Works Department achieved American Public Works Association Accreditation, the first privately run public works agency in the U.S to do so. And in 2021, the department received full re-accreditation.
38

average miles per plow – nearly two times the average of adjacent jurisdictions

40

%

less time to cover the city's snow route network due to optimized snow routes

100

K

people are better connected to their city

24

/7

citizens may voice their concerns to the citizen response center
"Centennial prides itself on being innovative and doing business differently, which includes innovative partnerships that not only benefit individuals and businesses, but also our community and the environment. The partnership the City has with Jacobs has led to the implementation of effective and efficient programs that benefit the citizens of Centennial."
Centennial, Colorado created a flexible system to meet community needs
We're all ears. Decades of experience taught us how important it is to listen. That's why we begin our partnerships with a conversation. When Centennial told us about their most pressing challenges, we created custom-tailored solutions. For example, when the city recognized the snow routes developed by the previous service provider were unbalanced and consequently received inconsistent service, we took an innovative approach to apply route optimization to the city's snow-route network. The resulting balanced network reduced the time to cycle through snow routes by 40%. The Centennial Public Works Department was recognized in 2012 by the Institute of Transportation Engineers with its Transportation Achievement Award for Operations for Jacobs' innovative application of route optimization to optimize the city's snow routes, believed to be the first such application in the nation of route optimization.
Change is constant – Let's plan on it  
No one can predict the future, but we can plan for the necessary wiggle room of life's uncertainties. Our partnership designed a flexible and adjustable service through a value-exchange system. This system allows the city to adjust service levels and associated quantities based on changing priorities and demands. For example, if a mild winter requires less roadway striping in the spring, the city can decide to exchange those dollars for additional pothole patching. This allows the city to manage its budget more effectively over the contract's lifetime while performance standards enable  control of the timing and the amount of service performed while passing  the risk of quality and deadline commitments to Jacobs. Now doesn't that make planning for the future a little less daunting?
Innovation that can stand up to mother nature
We introduced a variety of innovative approaches to optimize snow removal, as described previously, but we took snow removal to another level through the use of guided-driver technology and truck mounted GPS units. Optimized snow routes are loaded into a routing device, which allows for continued and consistent service delivery regardless of blowing snow and adverse weather conditions or the need to bring in additional drivers not familiar with a particular route. The snow-route optimization and guided-driver technology allow the city to extend services with its existing fleet to improve speed, frequency and range of snow plowing services, in turn improving community safety and transportation access during hazardous snow conditions.
Giving the community a voice
We provide a single point of contact for all resident concerns, not just public works. Residents can call 24 hours a day, seven days a week or submit service requests online. Information is entered into a work-order tracking system along with the requesters' contact information, so a representative may update them on the progress of work through completion.
Smart solutions for today and tomorrow
Centennial is a leader in the region and across the country in its application of smart-city technologies to optimize service levels for constituents. We provide many services in support of these initiatives, including capital planning, grant pursuits, transportation planning, and traffic management through intelligent solutions.
Additionally, we developed the Intelligent Transportation System Master Plan to create a roadmap for incorporating and implementing smart technology utilizing fiber optic communications and "big data" to optimize the city's transportation network. We developed and staff the Transportation Management Center to monitor traffic operations in real-time,  which enhances roadway safety, mobility and reliability. The city also has access to our global subject-matter experts to ensure it has resources at its fingertips to explore and pursue any existing and emerging technologies to be a world-class smart city.
Lasting community impact
Every few years the City of Centennial conducts a survey to measure residents' impression of the city's performance, including contracted services and operations. Recent responses show the highest satisfaction remains in the responsiveness of the city and the overall quality of life. It also helps dictate issues the city and Jacobs should focus on in the upcoming years. These surveys are a great way to make sure we provide services and improvements wanted by the community.